Stripburger 48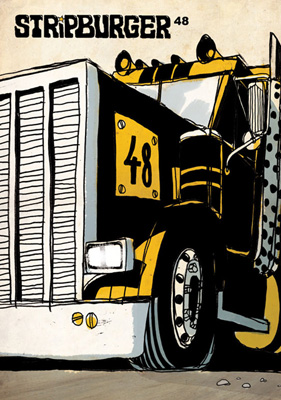 November 2008, 96 pages
(PRICE: 2,50 € + around 5 € international shipping)

The 48th issue of Stripburger features two special sections. The first one introduces us to Dongery, a group of comics artists from Norway (Bendik Kaltenborn, Flu Hartberg, Sindre W. Goksøyr and Kristoffer Kjølberg.
The second sections reveals one of the youngest comics scene in Europe – that of Latvia (Anete Melece, Kaspars Groshevs and Ingrīda Pičukāne).
Also in the focus of this issue is Marco Corona, perhaps one of the most intriguing Italian cartoonists at this moment. Corona was interviewed by Paola Bristot.
Stripburger no. 48 also boasts an unusually high percentage of Slovene authors. Domen Finžgar, makes his debut in this issue, while Damijan Sovec returns after a long absence with a series of travel comics. Other highlights of the issue include works by Olive Booger (France), Janek Koza (Poland), Tea Hvala (Slovenia), Gašper Rus (Slovenia) Matej Lavrenčič and Koco (Slovenia), to name just a few of them.
---
COVER: Matej Lavrenčič (Slovenija/Slovenia)
INSIDE COVER: Marco Corona (Italija/Italy)
COMICS: Olive Booger (Francija/France), Hehoos, Saša Jegorov (Rusija/Russia), Janek Koza (Poljska/Poland), Matej Lavrenčič, Gašper Rus, Damijan Sovec, Tea Hvala & Jakob Klemenčič, Koco & Matej Lavrenčič, Koco, Domen Finžgar (Slovenija/Slovenia), Anna Ehrlemark (Slovenija, Švedska/Slovenia, Sweden), Marcelo D'Salete (Brazilija/Brasil), Marco Corona (Italija/Italy)
"DONGERY": Bendik Kaltenborn, Sindre W. Goksøyr, Flu Hartberg, Kristoffer Kjølberg (Norveška/Norway)
LATVIAN COMICS: Anete Melece, Kaspars Groshevs, Ingrīda Pičukāne (Latvija/Latvia)
REVIEWS: Koco (Tomaž Lavrič: Sokol in golobica), Zoran Srdić (Marjane Satrapi: Perzepolis; Zoran Smiljanić & Marijan Pušavec: Meksikajnarji: Laibach), Jakob Klemenčič (Marcos Farrajota: Noitadas, Depres & Bubas), Domen Finžgar (Marcel Ruijters: Inferno), Špela Oberstar (Actus Comics: How to Love), Iztok Sitar (Ennea), Tea Hvala (Andreja Kocjan: Mikser)
PROFILE: Marco Corona (Italija/Italy)
BACK COVER: Bendik Kaltenborn (Norveška/Norway)
Save