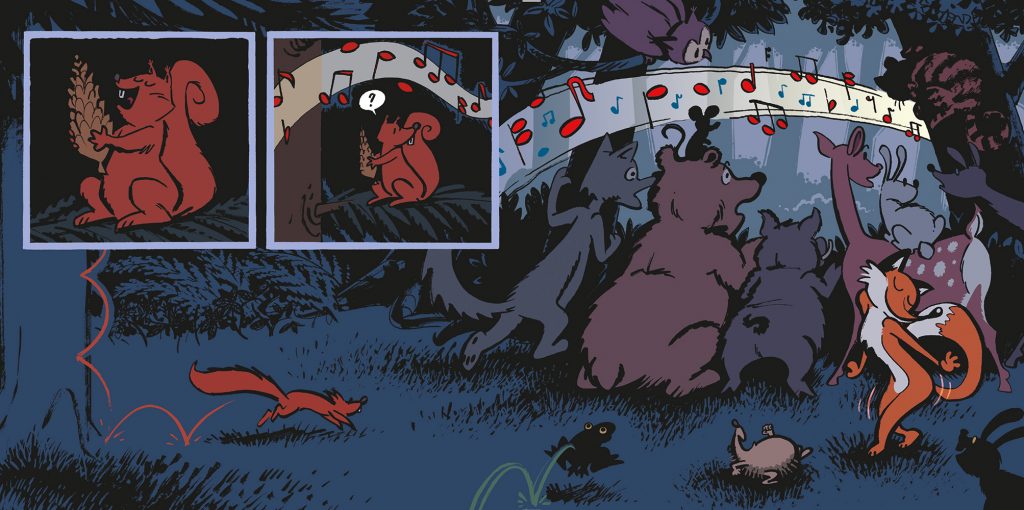 FOLK TALES IN COMICS AND ONE OF SCHMIDT'S
collective comics exhibition
TINTA  Comics Festival 2020 // Vodnik Homestead gallery, Ljubljana
8th October  – 15th November 2020
EXHIBITING ARTISTS: Kaja Avberšek, miha ha, Maja Kastelic, Tanja Komadina, David Krančan, Matej Lavrenčič, Gašper Rus, Igor Šinkovec, Matjaž Schmidt, Andrej Štular
This collective exhibition as part of the Tinta Comics Festival 2020 is dedicated to the contemporary comics production, mostly dedicated to the youngest readers, that draws from the rich treasury of folk literature. The exhibition will feature the originals by local comics artists whose comics based on folk tales and fables were published in book form under the auspices of Stripburger. These comics showcase popular folktale characters such as cunning beasties from Resia, a drunken rabbit, a hungry bear from the snowy landscape of the Russian East, and there are also a frowning lion king and a presumptuous little monkey …
The exhibition will also present three newly published books from the Stripburger's collection Ta ljudske v stripu (Folktales in Comics) by Gašper Rus, Maja Kastelic and Igor Šinkovec. This selection is also accompanied by the opus of one of the classics of Slovenian children's and youth literature Matjaž Schmidt who adapted a selection of Slovenian fairy tales to comics which were periodically published in the Ciciban magazine and were also awarded the original Slovenian picture book 2010 award.
With its evergreen content and diverse authorial poetics, the exhibition is an invitiation to visitors of all ages to discover the rich tradition of folk literature and the diversity of contemporary Slovenian comics creativity.
The exhibition is also complemented by murals and an interactive DIY art assembler installation by Andrej Štular and a sculpture of comics characters created by Rok Mohar and Marko A. Kovačič, based on the comics story by Gašper Rus.
In addition to the exhibition, a storytelling performance and workshops for children will also take place as part of the event.
ACCOMPANYING PROGRAM:
Sunday, 11th Nov. 2020, at 11.00 // Vodnik Homestead
COMIC SUNDAYS: FOLK TALES IN COMICS
storytelling performance and children's workshop (5+)
Saturday, 24th Nov. 2020, 10.00−15.00 // Vodnik Homestead
ANIMAL COMICS
comics workshop (9+)
Sunday, 8th November 2020, 11.00−14.00 // Vodnikova domačija
SUNDAY FUNDAY:  DIY art-assembler with Andrej Štular
children's workshop (5+)
Photo: DK, Domen Pal