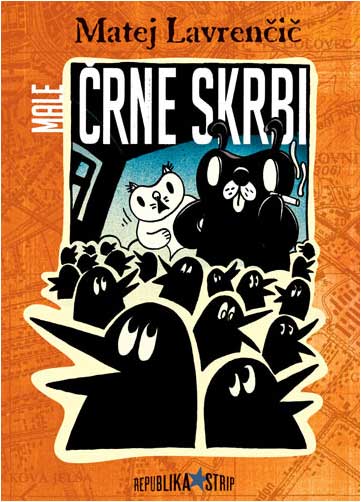 Little Black Worries – a funny and amusing story about contemporary struggles of the average everyman in the modern world!
---
THIS RELEASE IS IN SLOVENE LANGUAGE!
Republika Strip edition #4, February 2005, A4-, 68 pgs.
SOLD OUT
Save
This witty and engaging comics story shows the adventures of two human-like cats who realize they have plenty of »little black worries« in their lives. Question arises: how to get rid of them? Simply drawn characters animate this straightforward narrative that provides a lucid and amusing commentary on modern life and its downsides without moralizing at all. This is why it's appropriate for younger readers, but older ones will appreciate it as well, since this timeless story with relatable characters and a light-hearted approach will never get old.
MATEJ LAVRENČIČ (1980) works in comics, animation and illustration. He started publishing his short comics stories with the Stripburger magazine and this is his debut album. Apart from free-drawing he also likes to use pixel art both in his comics and animation. He regularly contributes his comics to Stripburger's anthologies and he's also received several domestic and international awards for his work in animation.
Save
Save