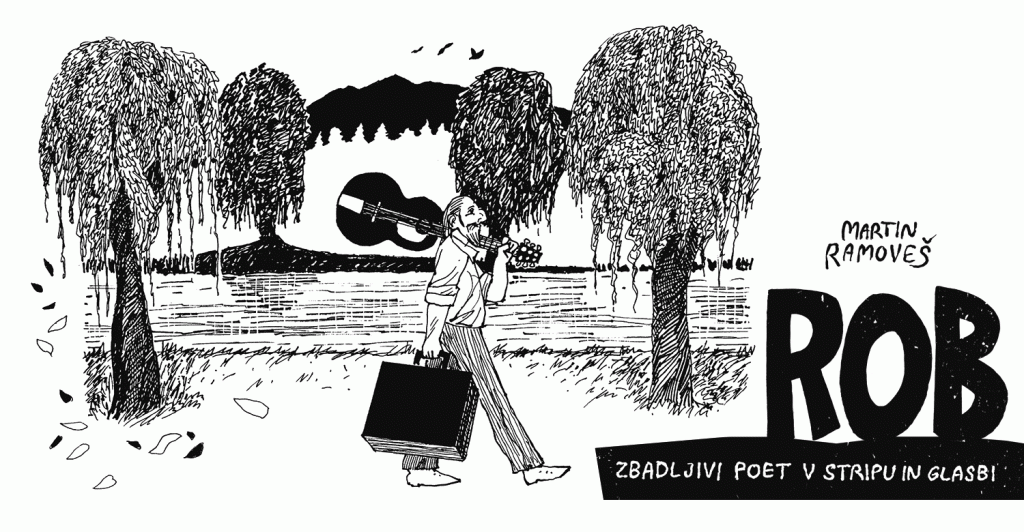 solo comics exhibition & concert
K18 gallery, Maribor
OPENING: Friday, 18th October 2019, at 19.00.
/until 14.11./
CONCERT: Vetrinjski dvor, at 21.00.
---
The exhibition accompanies the Stripburger's publication of a new comic book by Martin Ramoveš: his tribute to Ivan Rob, a Slovenian poet and satirist (1908–1943). The book tells the biographic story on the life and work of this somewhat forgotten writer whose multifaceted personality comes to life with Martin's depiction of key events from the poet's sadly brief life. The comic book is complemented by the latest studio project by the Martin Ramoveš Band: music using lyrics written by Ivan Rob – so the opening of the exhibition will be enhanced with a live musical performance.
MARTIN RAMOVEŠ (1989) is a musician and a comics artist. He graduated in 2015 from art education at the Faculty of Pedagogy in Ljubljana where he also received the faculty Prešeren award for this graduation work. At the centre of his creative endeavours is writing lyrics/poetry which he employs in both his comics stories and his musical art. He published several blues-rock musical albums with his Martin Ramoveš Band, while their latest one titled Rob is their third one that complements one of his comics albums.
---
Photo: DK
Gallery opening times: Mon–Fri: 14.00–18.00
Coproduction: Pekarna Magdalenske mreže and Narodni dom Maribor, co-funding: MOM and JAK