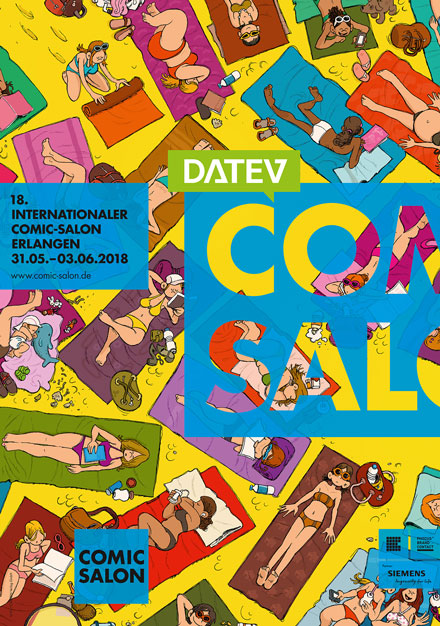 Stripburger at the 18th Erlangen International Comic Salon
31 May – 3 June 2018, Erlangen, Germany
https://www.comic-salon.de
Stripburger team is heading to Erlangen in Germany, where the 18th edition of the largest and most important comics festival in German-speaking countries will take place from 31 May to 3 June 2018, featuring around 20 exhibitions, a comic fair, a lecture and panel series, a special programme for younger audiences, the Comic Film Fest, readings and much more. The centrepiece of the International Comic Salon is the comic fair, where some 200 exhibitors will present their releases and 500 artists from all over the world will take part in live drawing events and book signings.  The organizers also award prestigious Max und Moritz awards for graphic literature and comic art in German-speaking countries.
Stripburger will have a table at the comic fair (A 52) – a special hint: you will find the brand new Stripburger no. 71 (!) and other our delicious publications and printed matters there! Apart from that, we'll have a presentation about 25 years of Stripburger's activity in the field of alternative comics in Slovenia and abroad.
Stripburger will be represented by it's editor Tanja Skale and by the artist Gašper Rus.
Kommen Sie vorbei und genießen Sie unsere Comic-Spezialitäten!

PROGRAM:
Stripburger at the comic fair
Thursday, 31 May, 12.00–19.00, Friday & Saturday, 1 & 2 June 10.00–19.00, Sunday, 3 June 2018,  10.00–18.00 / Messe-Halle A – stall: A 52, Schlossplatz, Erlangen

Talk "Stripburger: 25 years"
četrtek, 31. maj, ob 16.00, Orangerie im Schlossgarten, Erlangen
………………………………………………………………………………………………

Supported by: The Slovenian Book Agency (JAK).