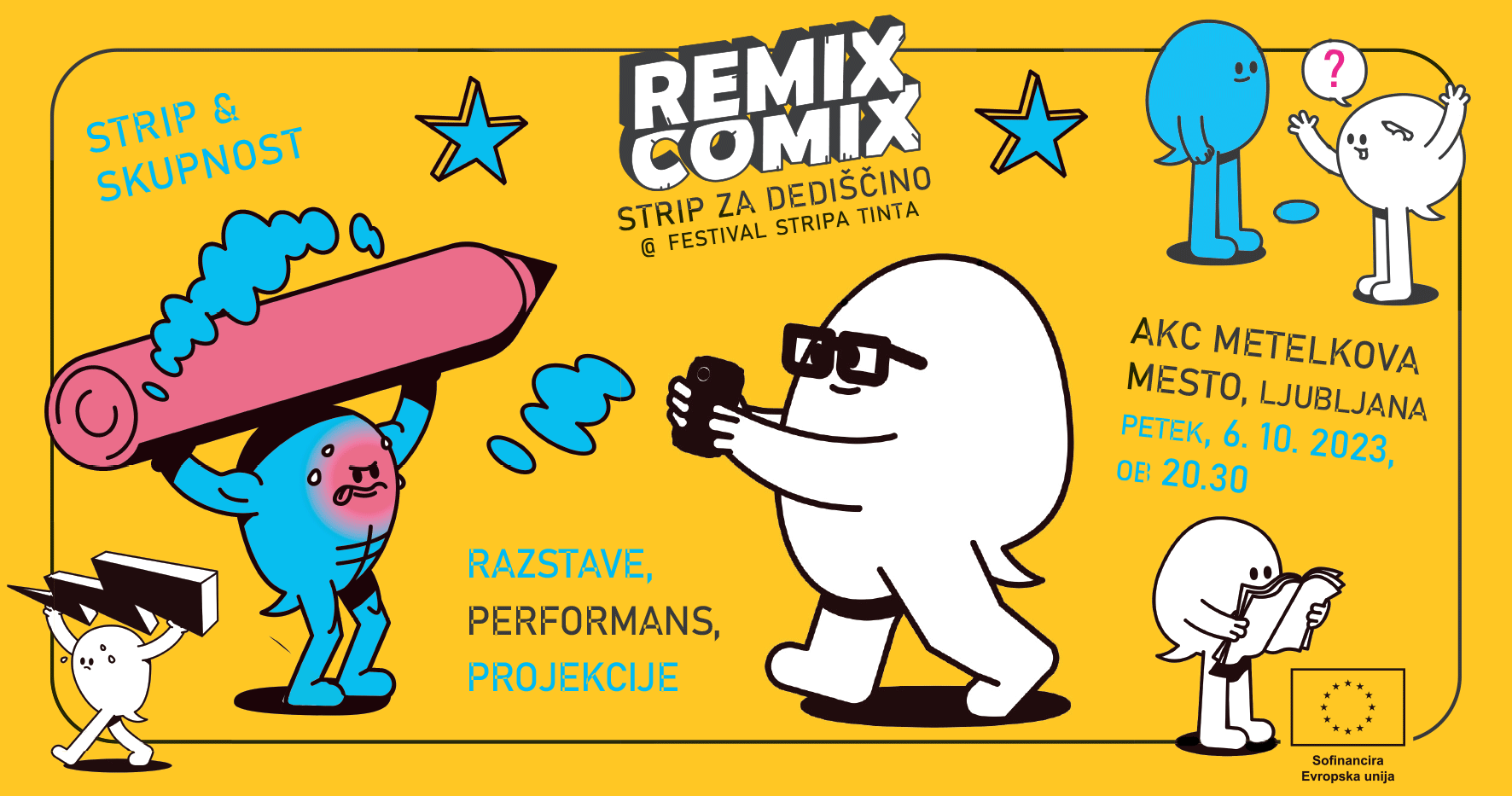 REMIX COMIX AT METELKOVA
final event of the Remix Comix art residencies
Tinta Comics Festival
Friday, 6. 10. 2023, at 20.30, AKC Metelkova mesto, Ljubljana
Opening of paintings and new sculptural work on the walls of AKC Metelkova mesto
Participants: Terezie Unzeitigová (CZ), Boris Stanić (RS), Konstantinos Petrović (RS) & Vladimir Ilić (RS), Mazen Kerbaj (LB)
Performance by  Jos Daamen (NL) and Nivin Baranbo (NL)
Première of Kristina Kokalj's video (SI)
Sunday, 8. 10. 2023, at 11.00, AKC Metelkova mesto
AKC Metelkova Once, Today, Tomorrow; guided tour
Led by Nataša Serec (KUD Mreža)
---
In Ljubljana, the Remix Comix project is centred around AKC Metelkova, which, as one of rare remaining autonomous spaces, offers refuge to various artists, members of vulnerable groups and diverse subcultures. Moreover, for the artists that are guests of the residential program in Ljubljana, Metelkova was also a source of inspiration.
In addition to comic paintings on the wall of Metelkova by the authors Terezia Unzeitigová and Boris Stanić, we can anticipate also an installation of a new sculpture by two Serbian artists, Konstantinos Petrović and Vladimir Ilić. Furthermore, dancers and actresses from the Netherlands, Nivin Baranbo and Jos Daamen, will present to the audience their new performative work, which was created on the basis of collected stories on Metelkova's history and folklore. The multimedia event will be wrapped up with a début presentation of a new video essay about Metelkova, authored by a local video artist Kristina Kokalj. Last, but not least, the team is joined by the Berlin-based Lebanese artist Mazen Kerbaj with a new work as part of the public Gesamtkunstwerk Metelkova art interventions, produced by KUD Mreža. The newly created works thematize heritage and importance of autonomous cultural spaces, as well as other forms of sociality and community that are forming and inhabiting these spaces. Members of these group will also be actively involved in working with artists at workshops, meetings and discussions.
On the guided tour, held on Sunday, 8 October at 11 am, you can get to know more about the history of the visual scene and current visual production in the AKC Metelkova.
About Gesamtkunstwerk Metelkova:
From the very beginnings of the autonomous zone, the walls of Metelkova represented a unique expressive space, where ever new visual creations emerged, be it graffiti, paintings, mosaics, sculptures, photographs, projections … Over the years, Metelkova has transformed into an integrated ambient, where art projects in public space often supplement its functionality and also serve as a communication tool. Metelkova's walls are unique spatial markings that not only convey artistic qualities, but also mark the space of difference and thereby create and, at the same time, reflect its identity.
In 2001, we (Strip Core/Forum Ljubljana) placed a series of portrait photographs entitled The Face by DK on the northern wall of Metelkova and introduced the central actors of the autonomous zone to passers-by.
In 2004, in the production of Metelkova's KUD Mreža, Metelkova Integrated Artwork project began, as part of which regular curated production of new works of art in the public space takes place and which has so far brought more than two hundred art interventions. In recent years, Strip Core/Forum Ljubljana again actively participates in the creation of new works of art at Metelkova, both in the field of light art and wall paintings or comics.
---
Partners of the Remix Comix project: MMC LED ART – Šok Zadruga, EPK Novi Sad, Komunikart (RS), LUSTR festival (CZ), ZID Theater (NL). Remix Comix project is co-funded by the Creative Europe Programme of the European Commission.
Producers: Stripburger/ Forum Ljubljana and KUD Mreža
Media sponsors: Mladina d. d., Radio Student, DPG
Co-financiers: European Union, Creative Europe programme, Ministry of Culture, Ministry of Public Administration, City of Ljubljana, Slovenian Book Agency