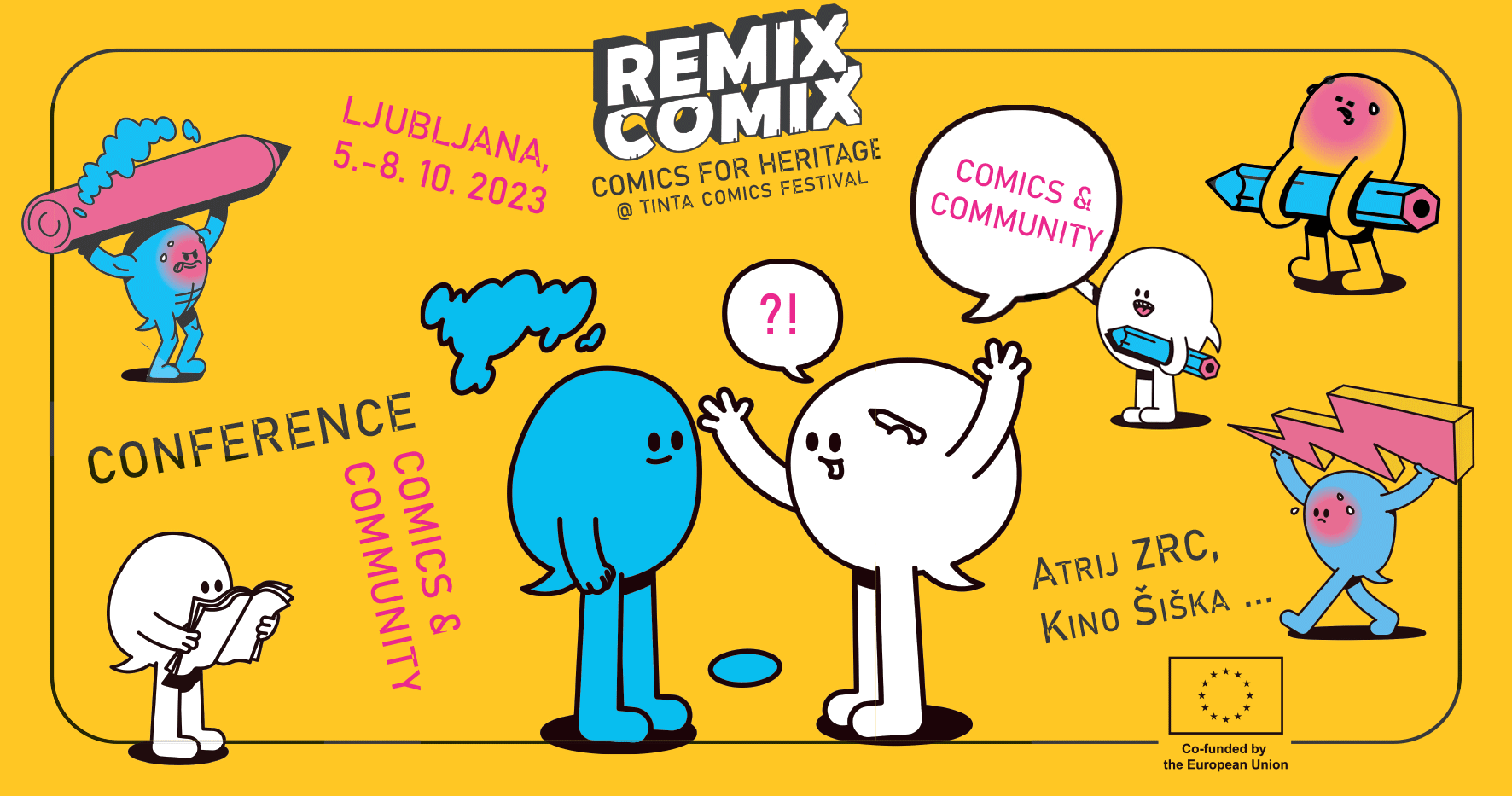 REMIX COMIX: Comics and Community
international conference
Tinta Comics Festival, Ljubljana
Thursday, 5. 10. 2023 (18.00–20.00), ZRC Atrium
Friday, 6. 10. 2023 (16.00–19.15), ZRC Atrium
Saturday, 7. 10. 2023 (14.00–19.45), Kino Šiška
REMIX COMIX CONFERENCE PROGRAMME (pdf)
---
Besides art residencies, Remix Comix project in Ljubljana also organizes a three-day international conference. Through talks, discussions, debates and workshops, we will explore the power of comics, its diverse forms and expressions with various researchers, curators and artists, and think about the validity and meaning of comics in contemporary culture and society. With its visual narrative expressive power, comics can be an effective tool to address various social issues. How do comic narratives help in making sense of the world, understanding social phenomena and changes? 
Through the context of comics or art in general, the discussants will also touch upon the issues of the representation of unheard or insufficiently heard voices of individuals and groups from the social margins, the construction of difference, subcultural identities and communities, and their importance in the creation and dissemination of alternative, pluralistic and progressive narratives about cultural heritage for the present and the future.
The conference will be opened on Thursday in the ZRC Atrium by a lecture by PAUL GRAVETT, the legendary British comics historian and generally an excellent connoisseur of world comics, and on Friday, there will be contributions and conversations with various important actors of the (independent) European comics scene. The Saturday program in Kino Šiška joins the already traditional accompanying fair program of the Tinta comics festival, which brings presentations of current comic book releases, masterclasses and discussions with renowned local and foreign comic book authors.
In addition, an exhibition of comics created at Stripburger's workshops with senior citizens and students with special needs will also be on view in the ZRC Atrium. Selected comics and books by conference participants will also be on display.
---
SCHEDULE
DAY 1 / THE POWER OF COMICS
ZRC Atrium; Thursday, 5 October 2023
18.00–18.15 / Opening of the conference
18.15–19.00 / Paul Gravett (UK): The Comics Medium Is the Message, lecture
19.00–19.15 / discussion
19.15–20.00 / pop-up exhibition Comics and Community

DAY 2 / STORIES FROM THE MARGINS AND THE POWER OF COMMUNITY
ZRC Atrium; Friday, 6 October 2023
16.00–16.10 / Welcome
16.10–16.50 / Erwin Dejasse (BE): Alternative Comic, Art Brut and Punk Comics: The Praises of Do-It-Yourself, lecture
17.00–17.40 / Mazen Kerbaj (LB): Capturing Time, presentation
18.00–19.15 / Networking Comics: Collectives and Festivals Creating Community, round table
Participants: Pakito Bolino / Le Dernier Cri (FR), Sanna Hukkanen / Kutikuti (FI), Katerina Mirović / Stripburger (SI), Barbora Müllerova / festival LUSTR (CZ), Alberto Polita / TCBF – Treviso Comic Book Festival (IT); moderator: Guido van Hengel (NL)
DAY 3 / A CLOSER LOOK: COMICS, SOCIETY, HERITAGE
Kino Šiška; Saturday, 7 October 2023
14.00–14.45 / Katarina Šeme (SI), masterclass (in Slovene)
15.00–15.30 / Philip Waechter (DE), talk
15.45–16.15 / Sanna Hukkanen & Inkeri Aula (FI): In the Shelter of Trees, comic book presentation
16.30–17.15 / Mikael Ross (DE), masterclass
17.30–18.00 / Ivan Mitrevski (SI): Invisible Lives, comic book presentation (in Slovene)
18.15–19.00 / Winshluss (FR), masterclass
19.15–19.45 / Comics and Heritage: Stories for a New Audience, discussion (in Slovene).
Participants: Marijan Pušavec, Zoran Smiljanić, Jaka Vukotić; moderator: Blaž Vurnik
The conference will be held in the English language, unless otherwise stated.
Here, you can learn more about the conference programme and the speakers: REMIX COMIX CONFERENCE PROGRAMME (pdf)
---
Partners of the Remix Comix project: MMC LED ART – Šok Zadruga, EPK Novi Sad, Komunikart (RS), LUSTR festival (CZ), ZID Theater (NL). Remix Comix project is co-funded by the Creative Europe Programme of the European Commission.
Producer: Stripburger/ Forum Ljubljana
Co-producers: KUD Mreža, Azil bookshop / ZRC SAZU, Kino Šiška
Media sponsors: Mladina d. d., Radio Student, DPG
Co-financiers: European Union, Creative Europe programme, Ministry of Culture, Ministry of Public Administration, City of Ljubljana, Slovenian Book Agency