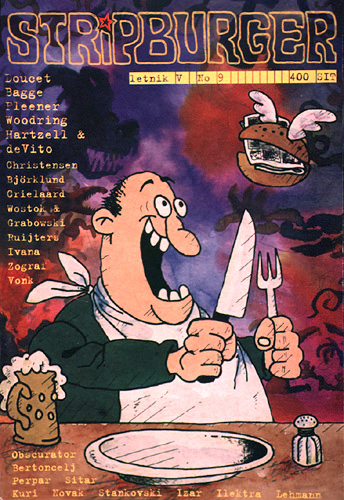 COVER:
Damijan Sovec (Slovenia)
COMICS
: Matthias Lehmann (France), Ole C. Christensen (Denmark), Iztok Sitar, Jure Perpar, Matjaž Bertoncelj, Obscurator, Damijan Sovec, Izar Lunaček, Kuri, Dr. Margina, Borut Novak,(Slovenia), Vladimir Stankovski, Wostok & Grabowski, Ivana Filipović, Zograf & Rizzi (Serbia), Zlatko Krstevski (Macedonia), Maria Björklund (Finland), Berend Vonk, Chris Crielaard (Netherlands), Julie Doucet (Germany), Peter Bagge, Hartzell & de Vito, Jim Woodring, Mary Fleener (USA),  Maria Ilektra (Greece), Marcel Ruijters (Netherlands), Raymond Cindrić (Croatia), Stefano Zattera (Italy)
BLABLABLA
: Jakob Klemenčič
INFO
: Igor Prassel, Jakob Klemenčič
BACK COVER
: Grabowski (Serbia)
---
July 1996, 88 pages
SOLD OUT
---
RELEASED: July 1996, format A4, 88 pages, offset printed locally in Slovenia.
GET IT: 2,50 € + around 5 € international shipping.
HOW TO BUY: order it from our webshop or write to burger@mail.ljudmila.org.
WE SHIP WORLDWIDE! Preferred payment: PayPal.