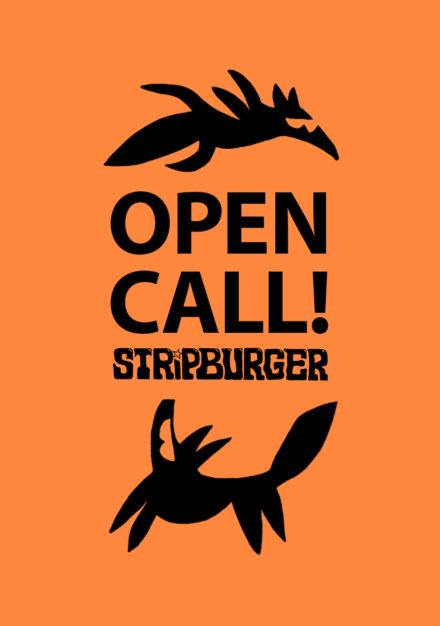 2019 calls for fresh and bold comics: after two years it's time again for a new open call for Stripburger comics magazine  (# 73 and #74)! Therefore, roll up your sleeves, sharpen the pencils, set up the drawing tablet and get to work!
Send  your submissions to burger@mail.ljudmila.org by 10th of March 2019!

SUBMISSION GUIDELINES
… FORMAT:
27 x 19 cm (portrait)
… B&W vs. COLOR:
We prefer black and white comics, but we accept color pages, too. Just keep in mind that there are limited number of color pages per issue, so the queue to get your comics published might be longer.
… FILE FORMAT & RESOLUTION:
The preferred file format is TIFF or PDF: 600 dpi linearity for b&w comics and 300 dpi for grayscale and color ones.
Submit only low resolution jpgs or a single pdf for our consideration. The big resolution files as described above we'll ask you to send later.
… LENGTH:
The maximum length allowed is 12 pages for b&w comics and 8 pages for color ones. If you want to send us longer stories, contact us first.
… LANGUAGE:
English / Slovenian.
… THEME:
No themes, no limits, only great stories.
… DEADLINE:
10 March 2019.
… SEND TO:
burger@mail.ljudmila.org
Submissions should include your name, surname, where are you from (country), website (optional).
… ADDITONAL NOTES:
We are not necessarily looking for new comics, you can also send older stuff, but note that they must be previously unpublished in English in an international comics magazine/anthology. We'd also prefer if you don't publish the full comic online before we print it.
After receiving your work we'll write you a confirmation e-mail within 14 days.
Stripburger's editorial board holds the right to accept or decline any contribution.
Unfortunately we cannot offer you any payment for participating. If we publish your comics, you'll get at least 5 copies of the magazine with your submission inside.
Of course, for all comics published in Stripburger, copyright is retained by the authors.
More info about Stripburger magazine you can find on our website. If you have any questions, please don't hesitate to get in touch. Write us: burger@mail.ljudmila.org
We look forward to receiving your submissions and thank you very much for spreading the word! Long live comics!
Stripburger: being daring and dashing since 1992!
---
Illustration: Dancing Foxes by Kaja A.