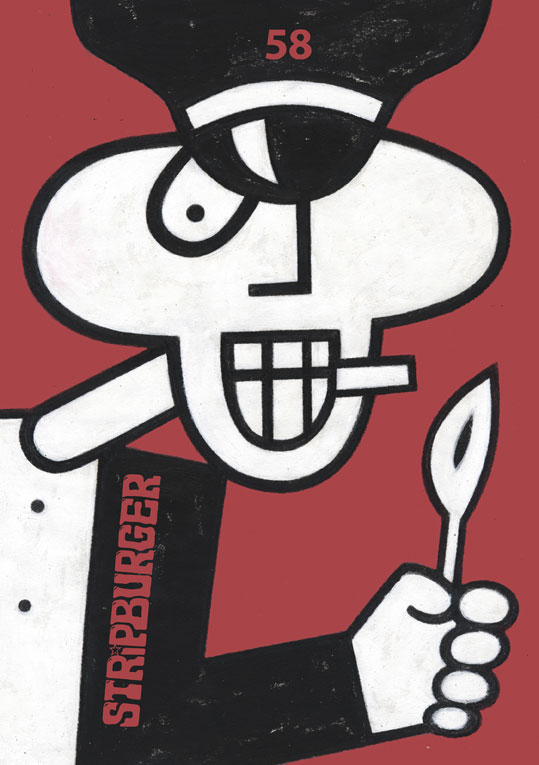 FRONT AND BACK COVER: Lars Sjunnesson (Sweden, Germany)
COMICS: Dakota McFadzean, Nina Bunjevac, Julie Doucet (Canada), Gašper Rus, Martin Ramoveš, David Krančan (Slovenia), Lars Sjunnesson (Sweden, Germany), Kayla Escobedo, Peter Kuper, Alex Schubert (USA), Gorand (Macedonia), Mart (Spain), Akinori Oishi (Japan), Janek Koza (Poland), Dace Sietina (Netherlands)
INTERVIEWS: Lars Sjunnesson (Sweden, Germany), Julie Doucet (Canada)
INDONESIAN UNDERGROUND COMICS: Rakhmad Dwi Septian
REVIEWS: Gašper Rus (Blexbolex: No Man's Land; R. Poplak, A. Jansen, J. Gilmore, N. Marinkovich: Kenk), Kaja Avberšek (Craig Thompson: Habibi)

---
December 2012, 96 pages
SOLD OUT
Do not impatiently skip this brief introduction to get to the list of comics! This issue offers a unique selection of artists, texts and other treats that will prove to be hard to consume all in the remains of this year.The peculiarity starts with the editorial, which was written by
Dakota McFadzean (CA). His contemplation on the meaning of comics in the time of coming of age prepares the reader for his comic The Best Donald. We don't have the habit of explaining comics, but in this case it is done seamlessly, complementing his excellent comics narrative. Donald Duck is followed by Lars Sjunnesson (SE) with his bizarrely sick comic holding the mirror to our perverted society. This old friend of ours answers the questions in the interview as well. All over the issue you can find impressive and wicked onepagers by Kayla Escobedo (US). We were impressed by Goran Dačev (MK) as well, even more: he inspired us to start a new feature called A letter to the artist  and to write him a letter. We surely hope he'll be happy about it! Martin Ramoveš (SI), repeatedly proving his prowess with both words and images, is featured with his traditional last page and a 6-page grim lyrical poem. Another Slovene is Gašper Rus (SI) with his one-page autobiographical comic. The color part of the magazine is comprised of three artists: Mart (ES), Peter Kuper (USA) and Alex Schubert (USA). Stripburger extends his congratulations for his degree thesis to David Krančan whose comics were last seen in our magazine a long time ago. This is the reason we gave him space for two comics and their ample analysis. Canada is represented by two more artists: Nina Bunjevac (CA) with her recognizable Zorka, and the versatile Julie Doucet (CA), the second interviewee. Janek Koza (PL) and the always adorable Akinori Oishi (JP) present their comic stories on their respective page spreads. This issue culminates with the Indonesian artist Rakhmad Dwi Septian (ID) who first introduces the reader to the Indonesian underground comics with his presentation text, then he takes him into a world to be discovered with his extensive dreamlike comic. Let's start discovering right here, on the pages of Stripburger …The cover page was created by Lars Sjunnesson, while the inside covers and other accessories were courtesy of Dakota McFadzean and Dace Sietina (LVA/NL).
The last issue of Stripburger thus covers comics theory, new sources of comics-making and seasoned comics veterans as well, maintaining the quality of the selection and opening new approaches to this medium we all love.
Peace!
---
RELEASED: December 2012, format A4-, 96 pages (8 full colour pages), offset printed locally in Slovenia.
GET IT: 2,50 € + around 5 € international shipping.
HOW TO BUY: order it from our webshop or write to burger@mail.ljudmila.org.
WE SHIP WORLDWIDE! Preferred payment: PayPal.
SUPPORT: The Slovenian Book Agency (JAK).
Save