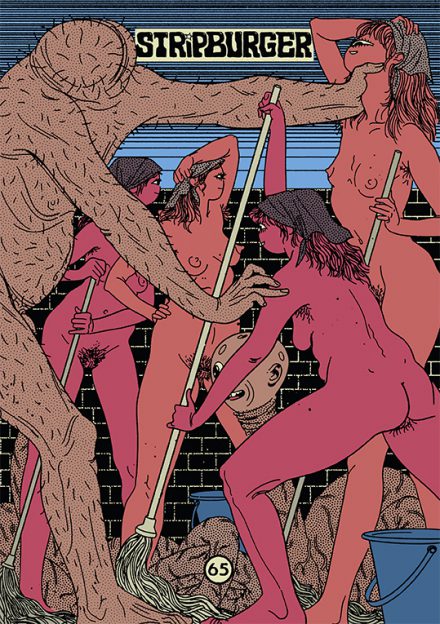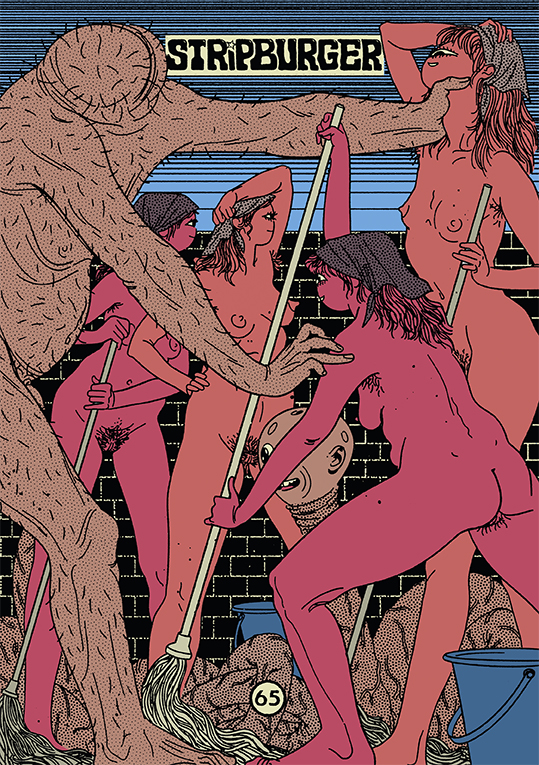 FRONT AND BACK COVER: Berhnarda Xilko
COMICS: Alex Potts (United Kingdom), Zane Zlemeša (Latvia), Max Baitinger (Germany), Olle Berg (Sweden), Olaf Ladousse (Spain), Capucine Latrasse, Léo Quievreux & Samplerman, L.L. de Mars (France), Matej de Cecco, Matej Kocjan – Koco, Andrej Štular (Slovenia), Marek Rubec (Czech Republic), Jana Vasiljević (Belgium), Bruno Borges (Portugal), Kristel Pent (Estonia, Greece), Martin Lacko (Slovakia), Lars Sjunnesson (Sweden, Germany), Matteo Farinella (United Kingdom, Italy), Martin kellerman (Sweden), Tom Scotcher (United Kingdom), Akinori Oishi (Japan), M. S. Bastian & Isabelle L. (Switzerland),
INTERVIEWS: Matej de Cecco in Boštjan Gorenc – Pižama
PORTRAIT: Akinori Oishi (Japan)
REVIEWS: Jakob Klemenčič (Emil Filipčič & Marko Derganc: Butnskala), Ana Bogataj (Frederik Peeters & Pierre Oscar Lévy: Peščeni Grad), Bojan Albahari (Nina Bunjevac: Fatherland), Gašper Rus (Sik Jun Jung: Medena koža), Domen Finžgar (Matej de Cecco & Boštjan Gorenc: Šnofijeva druščina)
May 2015, 96 pages
SOLD OUT
We are entering the hot summer months with a fresh issue of Stripburger magazine, which remains faithful to the concept of presenting crème de la crème of alternative comics from all over the world.
The global comic scene is being regularly enriched with many young and unknown talents and the rise of Internet culture has extensively contributed to the increased interest in visual storytelling. Everyone today has taste and to separate the wheat from the chaff has become an increasingly difficult task. It's a dirty job, but someone has to do it. Despite high aesthetic criteria we are trying to maintain a wide variety of artistic approaches to cartooning and undogmatic publish comics that are different, fresh and unique.
The 65th Stripburger is definitely characterized by stylistic and narrative diversity. It features fresh and unique comics creations by 24 authors of different generations, poetics and aesthetics: Alex Potts (UK), Zane Zlemeša (Latvia), Max Baitinger (Germany), Olle Berg (Sweden), Olaf Ladousse (Spain), Capucine Latrasse (France), Matej de Cecco  (Slovenia), Marek Rubec (Czech Republic), Jana Vasiljević (Belgium), Léo Quievreux & Samplerman (France), Bruno Borges (Portugal), Kristel Pent (Estonia, Greece), Martin Lacko (Slovakia), Lars Sjunnesson (Sweden, Germany), Matteo Farinella (Italy, UK), Matej Kocjan – Koco (Slovenia), Martin Kellerman (Sweden), Tom Scotcher (UK), Akinori Oishi (Japan), M. S. Bastian & Isabelle L. (Switzerland), L.L. de Mars (France) and Andrej Štular (Slovenia).
 Juicy cover page was created by Bernharda Xilko (Serbia), while the editorial was written by Alex Potts (UK).
At the end of 2014 we were visited by the Japanese artist Akinori Oishi, so we took the opportunity to present him and his work in the portrait. The issue also features an interview with  Matej de Cecco and Boštjan Gorenc – Pižama, an artist and writer tandem that creates of the most popular Slovenian youth comic at the moment.
Enjoy summer & dive into the colourful world of comics!
---
---
RELEASED: May 2015, format A4-, 96 pages (4 full colour pages), offset printed locally in Slovenia.
GET IT: 3 € + around 5 € international shipping.
HOW TO BUY: order it from our webshop or write to burger@mail.ljudmila.org.
WE SHIP WORLDWIDE! Preferred payment: PayPal.
SUPPORT: The Slovenian Book Agency (JAK).
Save