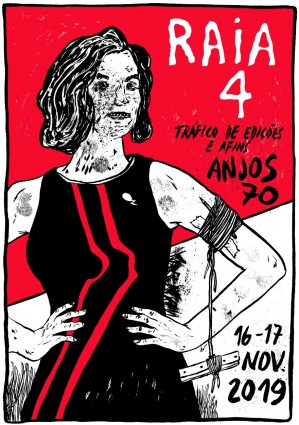 Meet us at the RAIA #4 festival!
16th and 17th November 2019, Lisbon, Portugal
---
Stripburger has been relentlessly courting attention of comics readers with its eclectic selection of sequential art narratives for many years now, thus attracting comics fans from all parts of the world. This November, its representatives are travelling to the Portuguese capital where they will be hosted at the 4th edition of the RAIA festival which is dedicated to independent publishing and printing arts. Such festivals are experiencing a huge revival all around Europe in the last years, mostly among the younger generations of artists and followers, and represent an important catalyst of artistic creativity in the field of comics and graphic arts due to their vibrant dynamism and diversity.
The main event of the festival will be a two-day exhibition- and sales-fair of comic books, zines, graphic art and other independent and self-published projects. The program of the festival is rich with other exhibitions, presentations, concerts and other events.
With its no less than 74 issues, Stripburger is a literal veteran among the attendees of the festival, but its goal is not (merely) to flaunt its publications at its fair booth but also to weave its web of connections, meet new creative youngsters and offer them an opportunity to contribute to the pages of the magazine in its upcoming issues. Apart from that, Stripburger is also going to present its activities with an exhibition of silkscreen and risograph prints from its long-time production that will be on display till the end of November in the gallery of Aposentadoria, a popular and independent cultural and artistic venue of Lisbon.
Stripburger's flagbearers this time will be members of the editorial board Katja Štesl and David Krančan.
PROGRAM:
Festival Raia #4: small & independent publishers fair
16th and 17th November 2019, 14.00–20.00 @ Anjos 70, Lisbon, Portugal
'Stripburger in Print' exhibition
16th – 30th November 2019 @ Aposentadoria, Lisbon, Portugal