THESE RELEASES ARE IN SLOVENE LANGUAGE!
Folk tales and fables in comics for the youngest readers! Tanja Komadina: Why Do Dogs Sniff Each Other?, Matej Lavrenčič: The Pretentious Miss Monkey, miha ha: You Cannot Please Everyone All the Time
Minimundus edition #15, #16, #17,  3 books, 96 color pgs., hard covers, November 2017, Age: 4+
Price of whole collection (3 books): 18 €
18.00 €
Reinventing folk literature: traditional tales and fables meet comics!
Following the success of Beasties in Comics, another collection of children comics was created: three Slovenian artists, Tanja Komadina, Miha Ha and Matej Lavrenčič have each contributed one short comics adaptation of a selected folk tale. These are again intended for the youngest readers to introduce them into the comics culture. Added value of these picturesque children comics stories, presented in a new and fresh way, lies in the evergreen themes and in moral lessons that they bring.
MATEJ LAVRENČIČ designed a story with a very contemporary and cartoonish style. Not surprisingly he also works in animation and illustration. TANJA KOMADINA and MIHA HA are both well known to our younger readers for their comics and illustrations for the main children magazine in Slovenia. They both have specialized in comics for youth & children and are able to deliver high-quality content tailored especially to the needs of the youngest readers.
TANJA KOMADINA: Why Do Dogs Sniff Each Other?
Minimundus #15, Nov. 2017, 36 color pgs., 15 x 15 cm, hard covers, 7 eur

7.00 €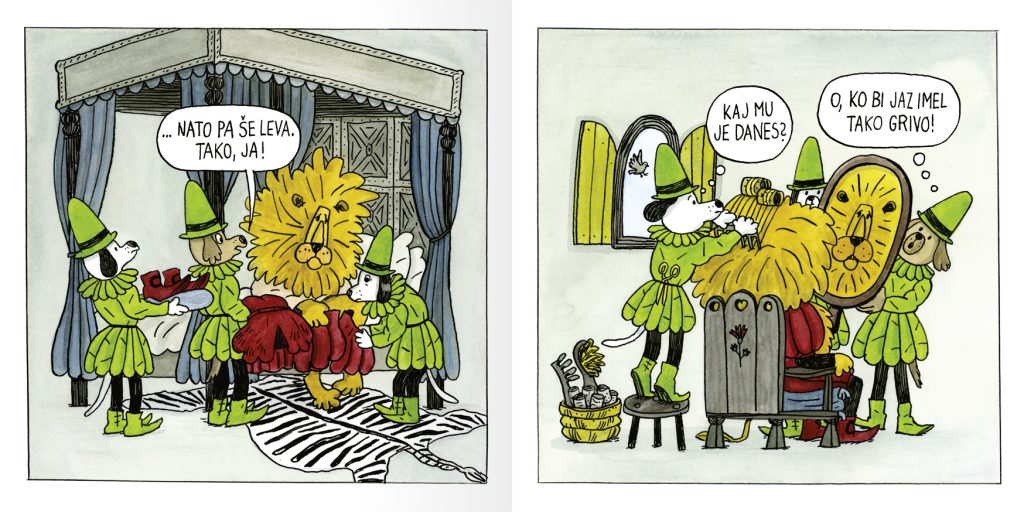 Folk science: how to sound reasonable while having no clue.
The fearsome lion, king of all animals, throws a huge party one day. But not everything goes well: the pepper shaker goes missing and the king will not have any of it. Thus he sends his subjects (dogs) to look for the pepper shaker, which explains why the dogs like sniffing each other so much: they're still looking for the pepper shaker for the king! This humorous story is well illustrated and employs a rich language with many puns.
MATEJ LAVRENČIČ: The Pretentious Miss Monkey
Minimundus #16, Nov. 2017, 36 color pgs., 15 x 15 cm, hard covers, 7 eur

7.00 €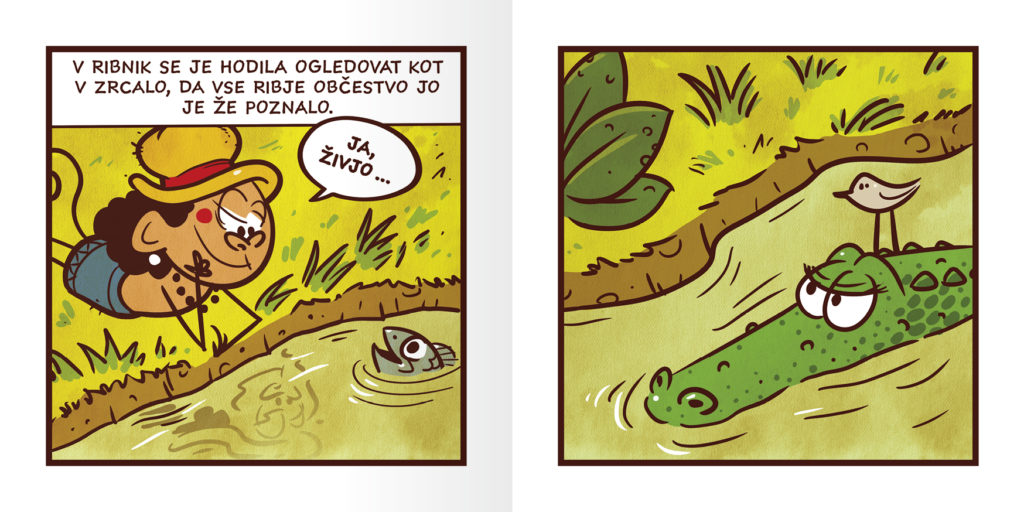 Perfect story for the contemporary self-obsessed times.
The little MISS MONKEY is the main and the prettiest comics character in her book. Her reflection in the mirror only partly reflects the true beauty that is her social media profile picture. However, all this good cannot last forever and the little Miss Monkey learns a very important lesson in the end. Her extreme and
egoistic vanity costs her her life, while the reader is presented with a strong moral lesson against self-infatuation.
MIHA HA: You Cannot Please Everyone All the Time
Minimundus #17, Nov. 2017, 24 color pgs., 15 x 15 cm, hard covers, 6 eur

9.00 €
A truly universal life lesson clearly understandable to everyone.
A father and son travel to the nearest village to sell their donkey. At first, they walk, but upon hearing the comments from the passersby they try riding the donkey, first the father, then the son, then both, then again no one, learning in the process that you cannot please everyone all the time.
A classical Slovenian folk tale with an unobtrusive, but powerful moral message. However the lesson never feels forced, instead it comes naturally and obviously, which is why it's perfectly comprehensible in any culture or society. It is so universal it almost needs no text: the images speak for themselves. The scenes of their travel are rich in visual depictions of farming and country work that contribute to the educational value of the book.
---
Publisher: Forum Ljubljana / special edition of Stripburger magazine / November 2017
Supported by the Slovenian Book Agency