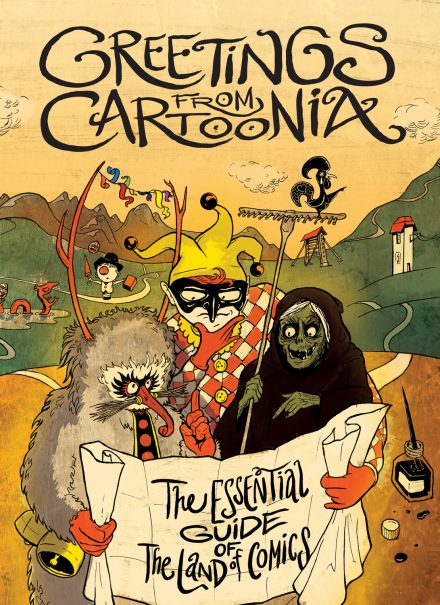 Welcome to Cartoonia land! 12 European comics artists gathered "objects of inspiration" from each others' homelands, what emerged is a completely new, transnational entity.
---
Special ediiton of Stripburger magazine(#50-51), October 2009, 216 pages, b&w, in English
Cover by Jure Engelsberger, coloring: Matej Lavrenčič
Comics: Matej Stupica, Jakob Klemenčič, Gašper Rus, Marko Kociper, Kaja Avberšek, Mateusz Skutnik, Benedik Kaltenborn, Andrea Bruno, Matei Branea, Filipe Abranches, Jyrki Heikkinen.


12.00 €Add to basket
Greetings from Cartoonia is a new international comics project, launched by Forum Ljubljana and its Stripburger magazine from Slovenia. The project unites seven European associations involved in the comics art and four Slovene cultural institutions. Along Forum Ljubljana (t. i. Stripburger), the initiator and the coordinator of the project, the other participants are: Viva Comix (Pordenone, Italy), Dongery (Oslo, Norway), Chili Com Carne (Lisbon, Portugal), Hardcomics (Bucarest, Romania), The Finnish Comics Society (Helsinki, Finland), Fundacja Transmisja (Poznan, Poland) and MGLC – International Centre of Graphic Arts (Ljubljana, Slovenia)…
The name Cartoonia is derived from the word »cartoon«. As you may know comics have been marginalized in most of the European countries and even forbidden in some of them. Therefore we felt a need to establish a safe, lively country, a fatherland of some sort to all cartoonists/comics artists of the world, as well as comics in general. The well-known citizens from these countries are in this essential guide of the land of comics telling stories about homelands of the other residents of the new Cartoonia land.
Artists from abroad were given the task of creating a portrait of Slovenia, while artists living in Slovenia were asked to make a portrait of the countries their foreign colleagues come from. The stories were inspired by objects and other specialties of the countries: architectural types, folk craft, archeological findings, food, cars, endemic species and cultural differences. The comics present us with an unconventional look at the countries of Europe and their inhabitants, which transcends national stereotypes and cultural differences in its fantastic interpretations and humor. There are 6 Slovene and 6 foreign artists involved in this lively intercultural dialogue.
Comics artists from Slovenia:
Kaja Avberšek, Jakob Klemenčič, Matej Lavrenčič, Marko Kociper, Gašper Rus, Matej Stupica.
Comics artists from other countries:
Bendik Kaltenborn (Norway), Mateusz Skutnik(Poland), Andrea Bruno (Italy), Matei Branea (Romania), JyrkiHeikkinen (Finland) and Filipe Abranches (Portugal).
Andrej Štular made a special map of Cartoonia land.
The project includes a traveling exhibition.
Save
Save
Save