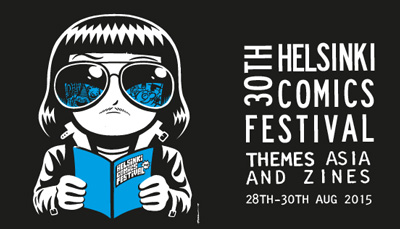 Stripburger crew will be heading to Helsinki, Finland, in the end of August, where our representatives – Tanja Skale (editor) and Tanja Komadina (comics artist and illustrator) will be attending the 30th Helsinki Comics Festival organized by the Finnish Comics Society.
Helsinki Comics Festival is the largest comic-related event in Finland and Northern Europe that has attracted 25,000 visitors last year. During the festival, an internationally flavoured comics fair will take place, where different comics publishers, artists and art collectives will be able to present their work, and other events, too: exhibitions, workshops, lectures, discussions and others. The 2015 festival themes are Hong Kong, South Korea and zines / small press.
Stripburger's share on the festival, taking place between the 28th and 30th August, will materialize in the international exhibition »Attention, work!« at the Myymälä2 gallery (Uudenmaankatu 23 F, Helsinki).  The exhibition was originally conceived as the counterpart to the Stripburger's international comics anthology titled Workburger and includes works by more than 50 comics creators.
The exhibition will be on display until the 13th September 2015.
The hosting was co-financed by Slovenian Book Agency.