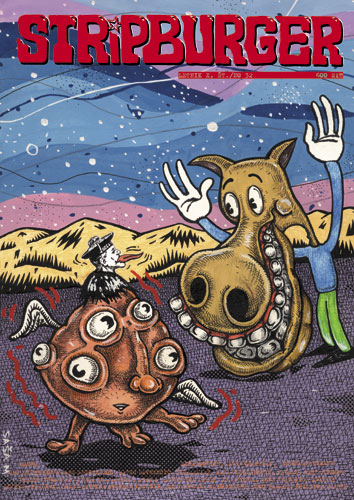 COVER:
Sasha Mihaylovich
COMICS:
Max Andersson & Lars Sjunnesson (Sweden/Denmark), Matej Lavrenčič, Žiga Aljaž, Andreja Kladnik, Tomaž Lavrič, Olmo Omerzu (Slovenia), Maja Veselinović (Yugoslavia), Rayman, Bart Schoofs, Anne Francoise Quoitin (Belgium), Helene Brosseau & Suicide (Canada), Ivana Guljašević, Emil Jurcan (Croatia), Atak & Martin Tom Dieck (Germany), Mr. Stocca (Yugoslavia), Grof Balazs (Hungary), Philippe Duarte (France)
JAMS
: Igor Prassel
INFO/REVIEWS
: Koco, Olmo Omerzu, Ivan Mitrevski, Žiga Aljaž, Igor Prassel, Zlatko Milenković, Darko Macan
BACK COVER
: Mr. Stocca
---
March 2002, 88 pages
SOLD OUT
---
RELEASED: March 2002, format A4, 88 pages, offset printed locally in Slovenia.
GET IT: 2,50 € + around 5 € international shipping.
HOW TO BUY: order it from our webshop or write to burger@mail.ljudmila.org.
WE SHIP WORLDWIDE! Preferred payment: PayPal.