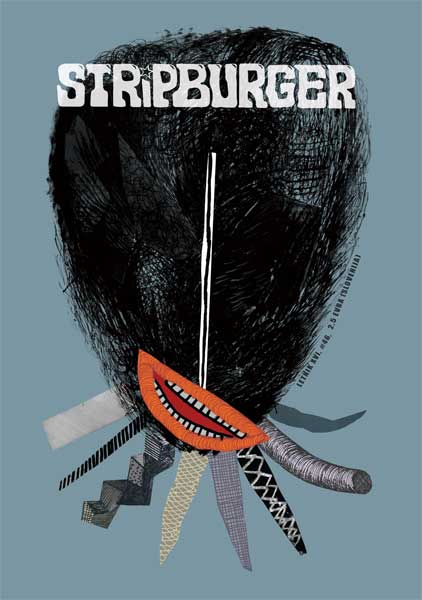 COVER
: Dunja Janković
COMICS
: Kati Rapia, Kati Kovács (Finland), Jakob Klemenčič, Koco, Andreja Kladnik, Saša Kerkoš, Koco (Slovenia), Cinders McLeod (Canada), Roberta Gregory, Fly, Mary Fleener (USA), Karolina Bång, Malin Biller (Sweden), Anna Ehrlemark (Sweden, Slovenia), Ulli Lust, Ludmilla Bartscht, Claire Lenkova (Germany), Chiquinha! (Brasil), Dora Dutkova (Czech Republic), Maja Veselinović (Serbia), Laurent Dandoy (Belgium), Akinori Oishi (Japan)
PROFILE
: Dunja Janković (Croatia, USA)
REVIEWS
: Tea Hvala (Miha Perne, Leon Zoudar:
Kratki striptiz in antišalce
), Domen Finžgar, Gašper Rus, Jakob Klemenčič (Singularplural Quandrinhos: 
Corpo de Delito
), Anna Ehrlemark (
Galago št. 90
), Špela Oberstar (Guy Delisle: 
Shenzen: A Travelogue From China
 & 
Pyongyang: A Journey in North Korea
); Harvey Pekar: 
Quitter
; Chester Brown: 
Louis Riel: A Comic Strip Biography
), Izar Lunaček & Iztok Sitar (Ariel Dorfman, Armand Mattelart: 
Kako brati Jaka Racmana
)
INTERVIEW
: Koco
BACK COVER
: Koco
---
October 2007, 96 pages
2,50 € + around 5 € international shipping
Stripburger #46 special feature pages Laugh Out Loud! were prepared in collaboration with City of Women, the Ljubljana-based international festival of contemporary arts. The festivals' mission and the main purpose of this issues' feature pages is promotion of women in art.
The selection includes previously unpublished comics and two older comics made by artists who have been fighting for their visibility and their right to create for decades. Both the Scottish-Canadian political cartoonist Cinders McLeod and American comic artists Roberta Gregory (legendary among feminist and lesbian readers) use sharp wit to fight stereotypes which accuse women, especially artists and feminists, that they have no sense of humor, that they don't know how to draw, that women have nothing to do with comics anyway etc. This ancient beast of burden consists of, among other things, comics wrapped in cellophane, written by men for men who believed that stories about muscular guys in tights, as Dunja Janković.
Contributors: Andreja Kladnik, Saša Kerkoš (Slovenia), Maja Veselinović (Srbia), Anna Ehrlemark (Sweden/Slovenia), Malin Biller, Karolina Bång (Sweden), Ludmilla Bartscht, Claire Lenkova, Ulli Lust (Germany), Kati Kovács (Finland), Chiquinha! (Brasil), Dora Dutkova (Czech Republic), Cinders McLeod (Canada), Roberta Gregory, Fly, Mary Fleener (USA) and Dunja Jankovic (Croatia/USA) who also contributed the cover and answered annoying questions about women, feminism, comics and work. Other featured artists in Stripburger #46 are: Kati Rapia (Finland), Laurent Dandoy (Belgium), Jakob Klemencic and Koco (Slovenia). puts it, are interesting for »everybody«. Female readers, who were excluded from this imaginary totality, have used their imagination or read between the lines in order to appropriate superheroes to their own needs. Even the most misogynist comic can be read against itself, suggesting that non-ideal women like I and you not only exist but happen to be brave, smart and beautiful. Needless to say, such »cross-examining« of a medium that is supposed to relax you is quite tiresome and boring.This makes it easier to understand why Roberta Gregory's most famous characters, bitter and cynical Bitchy Bitch and frustrated dyke Bitchy Butch were so warmly received by female readers. Instead of addressing »everybody«, her characters speak to a specific variety of genders and sexual preferences – just about everybody except machos in tights.
---
RELEASED: October 2007, format A4, 96 pages (8 full colour pages), offset printed locally in Slovenia.
GET IT: 2,50 € + around 5 € international shipping.
HOW TO BUY: order it from our webshop or write to burger@mail.ljudmila.org.
WE SHIP WORLDWIDE! Preferred payment: PayPal.