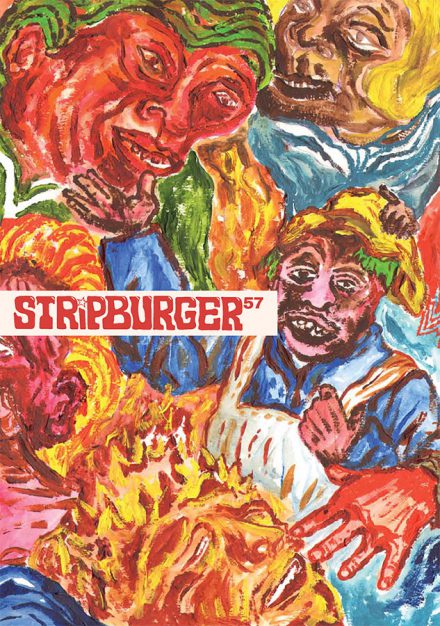 COVER AND BACK COVER: Jyrki Heikkinen (Finland)
INTERVIEWS: Jyrki Heikkinen (Finland), Nova Doba
COMICS: Marcel Ruijters (Netherlands), Alexis Frederick-Frost, Alex Schubert (USA), Pete Heyes (Great Britain), Marek Rubec (Czech Republic), Agnieszka Piksa & Vladimir Palibrk (Poland & Serbia), Johanna Marcadé & Mileta Mijatović (France, Serbia), Bernharda Xilko (Croatia, Serbia), Danijel Savović, Radovan Popović (Serbia), Dunja Janković (Croatia, USA), Anna Ehrlemark, Emma Rendel, Lars Sjunnesson (Sweden), Adrijan Praznik, Miha Ha, Martin Ramoveš (Slovenia), König Lü. Q. (Switzerland), Jyrki Heikkinen (Finland)
INFO/REVIEWS: Levon Gyulkhasyan (Stripi v Armeniji), Ana Bogataj (Davide Toffolo: Italijanska zima), KR & Mimo (Scott McCloud: Kako razumeti strip & Kako nastane strip), Gašper Rus (Joan Sfar: Mali princ), Mimo (Daniel Clowes: Death-Ray), Kaja Avberšek (Božo Kos: Kavboj Pipec, Rdeča pesa in Luna; Erich Kästner & Isabel Kreitz: Pikica in Tonček; Jelka Godec Schmidt: Vrtec pri veseli kravi)
---
June 2012, 96 pages
SOLD OUT
Dear readers,
the new issue that we all, us included, have been expecting for a long time, is finally out. Right on time to be taken to your first seasonal trips abroad, to the sea or the mountains.
 This issue is stock full of comics from all parts of the world as many different comics have appeared in our mailbox. This issue's dynamics lies on the axis of dychotomy between the individual and the collective, whose extremes are represented by the two interviews. The first one features Kaja Avbersek's discussion with Jyrkiji Heikkinen, (interview) a very cordial gentleman from Finland who draws wonderful poetic comics. The second one, however, seems to be a rather precipitous decision to interview the Novo Doba collective (interview). Who, or even better, what is that, is of course hidden in the interview itself.
Global comic-making is still in good shape and new names keep popping up. We've aligned them with some seasoned veterans such as Marcel Ruijters, König Lü. Q. and Lars Sjunnesson, who contributed the first of a five-part mini serial about Åke the bastard. New names in comic-making represent a hefty share of the issue, but their comics flow smoothly, thus allowing Alex Frost, Pete Heyes, Emma Rendel, Martin Ramoveš and Miha Ha to gently enter the reader's digestive system and be an enjoyable meal.
The interviews wouldn't be complete without the accompanying repertoire. Jyrki Heikkinen has contributed this issue's cover, some sketches and a  very Jyrkiesque short comic. On the other side, Bernharda Xilko, Johanna Marcadé in Mileta Mijatović, Dunja Janković, Anna Ehrlemark, Radovan Popović and Danijel Savović from Novo Doba sent us their wokrs experimenting in employing comics principles in other artistic forms (or is it vise versa?). Some of their comics have deserved a publication in colour, so we put them next to the intriguing Alex Schubert.
A regular reviews simply don't do anymore, so Stripburger's editors try different experiments as well: Domen Finzgar & David Krancan have co-wrote a double review of Scott McCloud's works that were translated into Slovenian, and Kaja dealt with three new titles in one reviewal stroke. Now already regular contributors Ana Bogataj and Gasper Rus have masterfully paid their dues (as is proper), while our connections took us even to the far away Armenia. Levon Gyulkhasian from Yerevan writes firsthand about the comics and the comics scene in Armenia (text).
Enjoy your reading and bon appétit!
---
RELEASED: jUNE 2012, format A4-, 96 pages (8 full colour pages), offset printed locally in Slovenia.
GET IT: 2,50 € + around 5 € international shipping.
HOW TO BUY: order it from our webshop or write to burger@mail.ljudmila.org.
WE SHIP WORLDWIDE! Preferred payment: PayPal.
SUPPORT: The Slovenian Book Agency (JAK).
Save