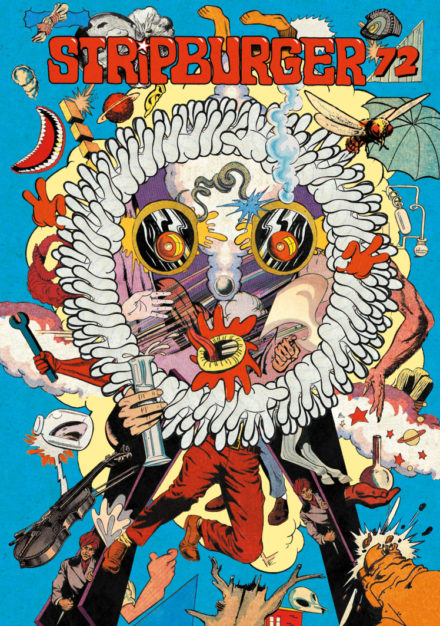 COVER
: Samplerman (France)
SOPEBOX
: Aleksandar Zograf (Serbia)
INTERVIEWS
: Tanja Komadina (Slovenia), Manuele Fior (Italy)
COMICS
: Charles Nogier, Léo Quiévreux & Samplerman, Emilien Wiss (France), Adrián A. Astorgano, Ana Galvañ, Marc Torices (Spain), Tanja Komadina, Primož Krašna (Slovenia), DW Ribatski (Brazil), Manuele Fior (Italy), Nadine Redlich (Germany), Anton Svetić & Stipan Tadić (Croatia), Teona Galgoțiu & Dan Michiu (Romania), Aleksandar Zograf (Serbia)
POSTER
: Samplerman, Léo Quiévreux (France)
ANALYSIS OF A COMIC
: Interpretation of Adrián A. Astorgano's Comic The Substitute (Katja Štesl & David Krančan)
BACK COVER
: Adrijan Praznik (Slovenia)
---
November 2018, 96 pages + double sided poster
3.50 €
SOLD OUT
Each new issue of Stripburger is a unique trophy: every time a little different, never completely predictable result of »hunting for tiny discoveries«. The short comics format allows the artists plenty of room for experimentation, to test different visual and narrative strategies and to exercise the flexibility of the comics language. And, if we take a look at the contemporary international comics scene, we can see that there is a lot to be excited about!
And surely it is exciting, daring and most of all diverse, this 72nd selection of Stripburger comics created by a plethora of artists coming from all kinds of eccentric places like Brasil or the Balcans.
We talked to the world-renowned Italian comics artist Manuele Fior, who creates comics like they were live organisms so that they can be still modified and supplemented, about his artistic stance and visual philosophy. The other interviewee is the Slovenian comics artist and illustrator Tanja Komadina who exposes the other, less attractive side of a creative profession: burnout. Few can afford being solely comics artists and many end up doing many other things as well. Aleksandar Zograf, a relentless Serbian comics explorer of »tiny discoveries«, writes in this issue's Soapbox that stories are all around us, even where we least expect them. Which leads us to the comic by Adrián A. Astrogano that was inspired by his not very creative experience of precarious work. The story excited us so much that we wrote a 'Letter to the artist' explaining our speculative reading of his comic.
On top of it all – a special visual treat which you can find in the center of the magazine: a two-sided poster by Léo Quiévreux and Samplerman, the second one also being the creator of the crazy cover of the issue.
Keep on hunting for new comics discoveries! And keep an open mind for stories, too.
---
RELEASED: November 2018, format A4-, 96 pages (18 full colour pages) + double sided poster in colours (38 x 54 cm), offset printed locally in Slovenia.
GET IT : 3,50 € + around 5 € international shipping.
HOW TO BUY : order it from our webshop or write to burger@mail.ljudmila.org.
WE SHIP WORLDWIDE! Preferred payment: PayPal.
SUPPORT : The Slovenian Book Agency (JAK)