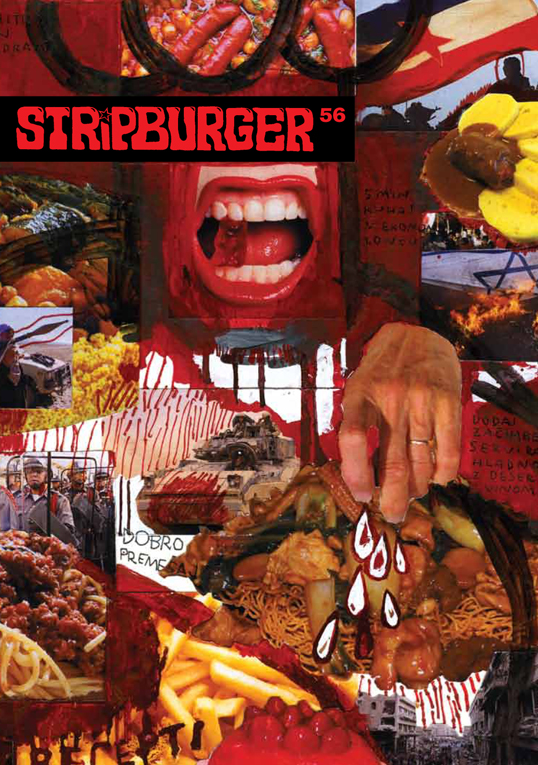 COVER AND BACK COVER:
Matej Stupica (Slovenia)
COMICS:
Marjan Manček, Gašper Rus, Martin Ramoveš (Slovenia), Sarah-Louise Barbett (Belgium), Lars Sjunnesson (Sweden, Germany), Teresa Câmara Pestana (Portugal), Vincent Lefebvre (France), Peter Kuper (USA), Darko Macan (Croatia), Marcel Ruijters (Netherlands), Da Steff (Austria), Jyrki Heikkinen (Finland), Joseph Lambert (USA), Rakhmad Dwi Septian (Indonesia)
INTERVIEWS:
Marjan Manček (Slovenia), Darko Macan (Croatia)
INFO/REVIEWS:
Domen Finžgar (Slovenska stripovska zamuda 3; Joseph Lambert: I Will Bite You! And Other Stories), Ana Bogataj (Recept za bolj posvetno rabo naše priljubljene revije; Johan Unenge: Moje vzporedno življenje), Koco (Risba v stripu na Slovenskem), Gašper Rus: Evald Flisar, Damijan Stepančič: Dama z železnim ugrizom)
---
December 2011, 96 pages
SOLD OUT
Dear readers, the last issue of the magazine bakery in 2011 is finally out! This one was meant to be dedicated to recipes for »whateveryoumightthinkof«, but for the artists this idea has been only selectively inspiring. Thus we got some comics that are inspired by recipes, but we cannot claim that we have a full-blooded theme section. However, the issue #56 is well stocked with quality comics from around the world that keep you well-fed.
We must admit that some artists have been actually intrigued by the proposed theme, you can see it in the works of Da Steff and Vincent Lefebvre. Da Steff's comic has been a part of the Unkraut Comics 5.2, Unkraut's special issue dedicated to food and partly a source of inspiration for this theme. Vincent's recipe for happiness is featured in full color, while the other recipe, this time for success, comes from Darko Macan.  He's a seasoned comics conoisseur who knows about comics in all their perspectives, as he's been or still is a comic artist, scriptwriter, reviewer and publisher. He disclosed his views on comics and comic-making in a long interview and he was even more  illustrative in the comic recipe he created for the issue.
Teresa Camara Pestana and Sarah-Louise Barbett have contributed longer stories revolving around the tragic fate of their main protagonist, each drawn in her own distinct way. The »notorious« and socially critical Peter Kuper, Stripburger's long-time contributor, is featured with two short comics that nicely fit the current times and its social uprisings, while Gašper Rus displays the cracking of the facade of some other classical authorities through a very personal story. Not to be ignored is the comic on St. Teresa by Marcel Ruijters, master of alternative takes on history and it's important  protagonists. The issue includes PST as well, the story from the comic book by an interesting Joseph Lambert.
The second extensive interview features a discussion with Marjan Manček, famous Slovenian comic artist, illustrator, caricaturist and creator of the recently published comics collection 'Hribci kremeniti'. Many grown-ups still well remember Manček's Hribci comics from elementary-school-era youth magazines.  We've collected them into one book for which the artist specially made four new wholepagers. The book and the interview are thus complemented by eight Hribci comics that escaped the collection, so you can read them on the pages of the magazine.
Matej Stupica too has been busy with the bloc theme and cooked up a brutally spiced hardcore haggis collage for the outside spread-out cover of the magazine, while the inner covers are adorned with the comic by Rakhmad Dwi Septian from the far away Indonesia.
We wish you many nice readings and a bon appétit to all of you!
---
RELEASED: December 2011, format A4-, 96 pages (4 full colour pages), offset printed locally in Slovenia.
GET IT: 2,50 € + around 5 € international shipping.
HOW TO BUY: order it from our webshop or write to burger@mail.ljudmila.org.
WE SHIP WORLDWIDE! Preferred payment: PayPal.
SUPPORT: The Slovenian Book Agency (JAK)
Save