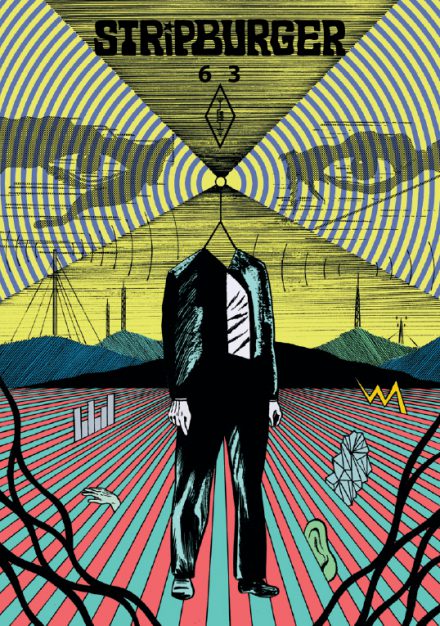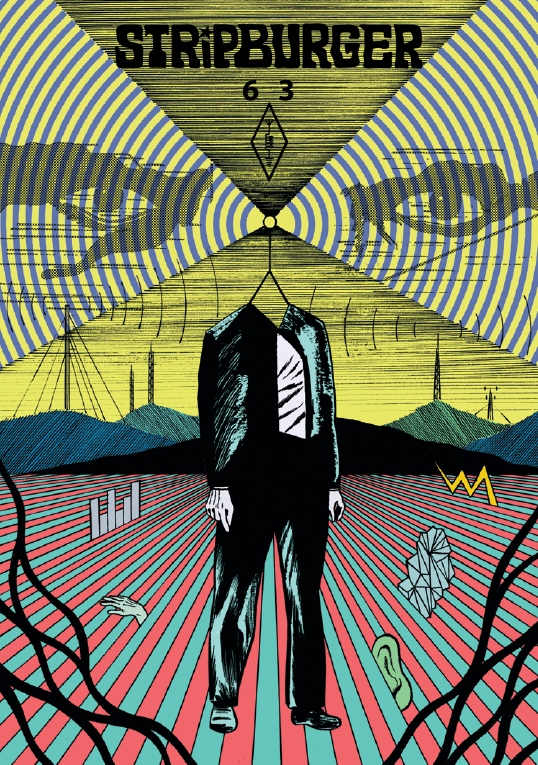 COVER: Léo Quievreux (France)
INSIDE COVER: Kaja Avberšek (Slovenia)
COMICS: Ville Ranta (Finland), Léo Quievreux (France), Matej Kocjan – Koco, Jakob Klemenčič, Domen Finžgar, Marko Kociper, Kaja Avberšek, Andrej Štular (Slovenia), Szczepan Atroszko (Poland), Dunjo Janković, Darko Macan, Ivana Armanini (Croatia), David Ferreira, Bruno Borges (Portugal), Lucie Castel (France, Belgium), Olaf Ladousse (France, Spain), Paul O'Connell (Great Britain), Lars Sjunneson (Sweden, Germany), Bendik Kaltenborn (Norway)
INTERVIEWS: Cirilom Horjak a.k.a. Dr. Horowitz (Slovenia), Ivana Armanini (Croatia)
REPORTAGE (Angoulême): Gašper Rus
REVIEWS: Ana Bogataj (Olivier Schrauwen: The Man Who Grew His Beard), Domen Finžgar (Kim Deitch: The Amazing, Enlightening and Absolutely True Adventures of Katherine Whaley), Bojan Albahari (Nina Bunjevac: Hladna kao led)
BACK COVER: Sorina Vazelina (Romania)
---
April 2014, 96 pages
SOLD OUT
This time, Stripburger offers you a collection of comics that scream out: "Radio!". In so doing, we have employed comic art to support Ljubljana-based Radio Študent (RŠ), one of Europe's oldest student and independent radio stations, which is celebrating its 45th birthday.
The above-average representation of local artists in this issue of Stripburger is, therefore, by no means a coincidence. Kaja Avberšek, Jakob Klemenčič, Marko Kociper, Matej Lavrenčič and Andrej Štular expressed their  hommage to RŠ by single-paged comics tributes to legendary RŠ jingles, while Domen Finžgar and Matej Kocjan – Koco confidently extended our 'radio' programme for an additional twelve pages.
There is also a special radio-comic experiment – namely our interview with Ciril Horjak AKA Dr. Howitz, the always-in-demand illustrator (among many other things), who invited us to the radio show Risanka. Together with the audience of RŠ, we created a live comics-jam-session of radio reporting. In the second – not-at-all-radio-related – interview, we will present Ivana Armanini, who has for the last twelve years been sailing the good ship Komikaze between the Scylla and Charybdis of what is becoming an increasingly turbulent sea – the independent scene.
Our 'radio' programme proudly features a wide range and a host of famous names from the international comics waves, such as Ville Ranta, Léo Quievreux, Darko Macan, Bruno Borges and Olaf Ladousse. And like always, you can also encounter some new names on the pages of Stripburger. First time with us are Szczepan Atroszko, Lucie Castel, Sorina Vazelina and David Ferreira. The latter shares the colour pages of this edition of Stripburger with the excellent Dunja Janković, who in her new graphic experiment explores how to connect audio and video.
We have also complemented the 'radio' part of the number with up a couple of comic delicacies. You will enjoy the company of Paul O'Connell and Bendik Kaltenborn, while Lars Sjunneson will delight you with the fifth and final part of his series on the naughty Åke.
A special feature of this issue is an illustrated report from Europe's largest festival of comics, which was written and drawn by Gašper Rus. And to complete the comics harvest, there is, as always, even an internationally-coloured handful of reviews written by our regular reviewers.
 Tune in to your favourite radio frequency, open Stripburger and let the adventure begin!
---
---
RELEASED: April 2014, format A4-, 96 pages (8 full colour pages), offset printed locally in Slovenia.
GET IT: 3 € + around 5 € international shipping.
HOW TO BUY: order it from our webshop or write to burger@mail.ljudmila.org.
WE SHIP WORLDWIDE! Preferred payment: PayPal.
SUPPORT: The Slovenian Book Agency (JAK).
Save