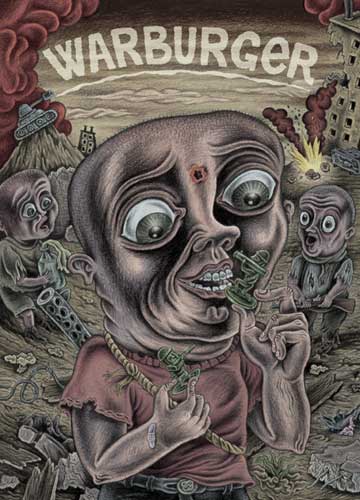 Stripburger's war edition features an international anti-war coalition.
---
Cover: Stéphane Blanquet
Introduction: Aleksandar Zograf
Comics: Max Andersson, Knut Larsson, Joonas Sildre, Jens Harder, Choi Juhyun, Fabian Göranson, Marek Turek, Koco, Andrej Štular, Alberto Corradi, Ryszard Dabrowski, Vladan Nikolić, Martin Pribyl, Hendrik Dorgathen, Roman Tolici, Eric Thériault, Vhrsti, Žiga Aljaž Sigmund, January Misiak, Metaphrog, Oskar Aspman, Josh Neufeld, Daniel Mrgan, Calle Claus, Wittek, Pier Gajewski, Peter Kuper, Andreja Kladnik, Miroslav Nemeth, Kati Kovács, Ulli Lust, Danijel Žeželj, Mateusz Skutnik, Jef Czekaj, Mawil, Mišo Mićić, Kai Pfeiffer, Matej Lavrenčič, Aert Goes, Ivan Brun, Mac McGill & Tauno Biltsted, Grega Lož, Frederic Coche, Jacek Fras, Lazar Bodroža, Guy Morad, Capucine Latrasse, Judith Drews, Rocco Lombardi, Helena Klakočar, Michal Baruch, Bren B, SRP Strip, Pavel Čech, Eric Braün, Maicol & Mirco, Mike Diana, Mr. Stocca, Rémi, Primož Krašna, Eva Bernhard, Ulf K, David Lester, Antoni Serkowski, Sébastien Vassant, Letač, Wostok & Lola, Jean Bourguignon, Gomé, David Krančan, Branko Jelinek, Ifat Cohen, Veiko Tammjärv, Roland Trost, Edmond Baudoin, Carol Swain, Squaz, Niklas Asker, Maaike Hartjes
Stripburger's largest and most impressive anthology to date, focusing on the topic of war. This crucially important edition, edited and produced in conjunction with the renowned Peace Institute, features over 80 cartoonists from Eastern and Western Europe, the United States, Canada, Korea, and Israel.
Aleksandar Zograf, whose own life living in war-torn Serbia inspired his own vital anti-war comics, writes the Introduction.